Previous schemes 15 - photo gallery.


Photo title:- Total house remodelling. To take a dysfunctional and outdated single storey bungalow on a large plot within a prime location and turn it into a modern contemporary home. Completed early 2012.
Description:- To extend the existing single storey bungalow dwelling to create a large two storey family home.
Existing property:- Single storey large footprint area bungalow on a large plot. Urban town centre residential location and in need of modernisation. The property is orientated 'back to front' with its newer neighbours in the street (also chalet bungalows).
Previous Planning History:- Nothing relevant other than for a front a rear extension.
Clients requirements:- To extend the existing property by as much as possible (and allowable under Planning) to form a two storey large family dwelling with contemporary features & styling, to improve its external appearance and character and to provide a totally refurbished modern home appropriate for the generous plot size and great town centre location.
CHP comments - CHP was given a free hand to propose a set of works and extensions that was very much reliant upon exploiting the sites potential but partly constrained by its immediate neighbours.
Opportunity existed for raising the roof ridge line with a complete new roof structure for maximising the roof void area for new rooms together with forming new roof structures over the existing flat roof GF structures of the previous extensions. A new rear extension was also included to extend the depth of the property in order to maximise the available roof void for the new first floor.
Two schemes were formulated - one larger than the other for clients assessment and selection for size and budget. The larger scheme was selected. Both schemes worked by trying to make the best of what we had and were left with after removal of certain structures and elements.
Complete knock down and rebuild was also considered but the budget, time scales and an easier planning approval route favoured the quicker alteration and extension route.
'BEFORE' IMAGE IS SHOWN FIRST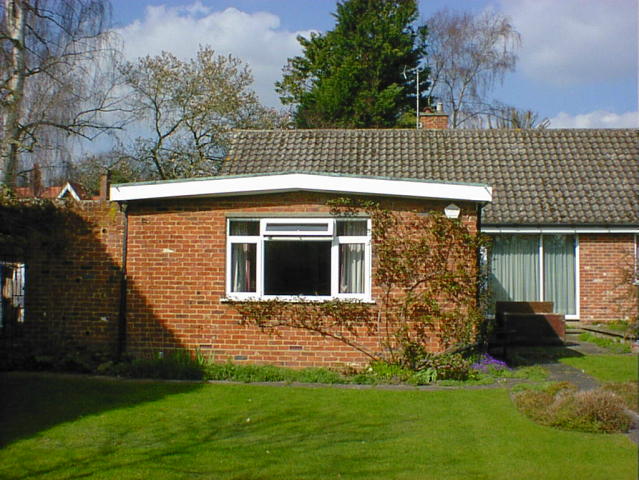 Choose an image to begin