New building materials and solutions news 1 12/10/2009.



ACCESSIBLE LIFETIME HOUSING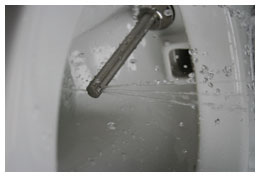 A progressive housing association is demonstrating the practicality of genuinely creating lifetime homes with the completion of the first phase of a new development. Margaret Blackwood Housing Association specialises in providing homes for disabled people. The new, £3.1 million Cala Sona Court redevelopment provides 24 homes purpose-designed to meet tenants' needs both now and in the future. Some 70 % of the new properties are specifically designed to be wheelchair accessible, with one being further ready equipped with Clos-o-Mat Palma 'was h and dry' toilets to optimise independence for the occupants' specific requirements, and the others wired for future installation of Clos-o-Mats if required.

GLIDEVALE DEVELOPS EFFECTIVE BARRIER FOR AIR AND VAPOUR
A new membrane that is claimed to provide an airtight solution for walls and ceilings has been developed by Glidevale Ltd. Protect BarriAir is a high performance, coated non-woven membrane. Installed immediately adjacent to the insulation on the warm side of the structure, Protect BarriAir can significantly reduce air leakage in any construction to meet the increasingly important standards for air tightness. Uncontrolled air leakage from all types of buildings is one of the major causes of energy loss and CO2 emissions. Glidevale has specifically developed Protect BarriAir to deliver high tensile and nail tear strength, yet still be easy to cut and manoeuvre.

LPD LAUNCHES NEW MAIN BROCHURE AND MINI GUIDE – DESIGNED TO DELIVER 'MORE THAN JUST THE DOOR'
LPD, one of the UK's leading importers and distributors of quality interior and exterior doors, has launched a comprehensive new brochure and compact mini guide. Presenting the extensive collection of contemporary and traditional styles with inspiring lifestyle photography, this latest literature also strongly promotes LPD's ethos of delivering 'more than just the door' to its valued network of independent distributors. The company has been at the forefront of the industry for nearly 30 years and understands there&rsq uo;s much more to the business than simply selling a door. Consequently, LPD is continually working in close partnership with stockists throughout the UK and Ireland, to help them deliver a competitive advantage.
MTECH CONSULT & GALLIFORD TRY OFFSITE IN ACTION!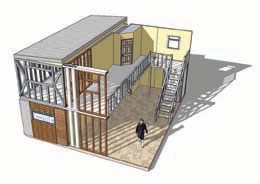 In an exciting development for Ecobuild, Mtech Consult, one of the UK's leading Offsite consultancy, and Galliford Try, one of the country's foremost construction and housebuilding groups, have joined forces to create an innovative Offsite feature at Ecobuild 2010. The companies will design, specify and construct a 2 storey generic building inside
Earls Court, entirely using Offsite methods and systems emphasising the significant environmental benefits that innovative Offsite systems and techniques can deliver. In completing the 70 m2 building, Mtech and Galliford Try expect to draw on products and services from between 12 to 15 specialist Offsite manufacturers from across the UK.
RECORD 4500 LAIDLAW DOORSETS FOR ST HELENS AND WHISTON HOSPITALS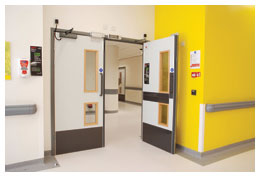 Laidlaw Solutions' position as one of the UK's leading supplier of doorsets to the healthcare sector has been emphasised by the specification of 4500 Orbis Timber Doorsets to two new PFI hospitals at
St Helens and Whiston. In addition to a 30-year maintenance and replacement contract, specialist requirements included 50 post-formed 'Acroyn'
PVC-faced sterile doorsets for level 1 theatres,
80 Radiological performance doorsets for X-Ray departments and 180 Easi-fold doorsets for disabled POD bathrooms. Orbis Commercial ironmongery in Silk Anodised Aluminium was supplied for the
'Bio Oak' laminated doorsets, with solid nylon Normbau levers and pull handles used for the
'Corfu' Formica® psm laminate doors.
STEADMANS LAUNCHES NEW PRODUCT SELECTOR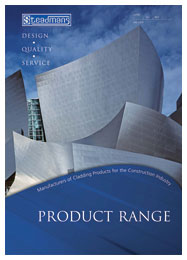 Roofing, cladding and structural products company Steadmans has introduced a new full-colour product selector portraying its comprehensive range of products for the construction industry. Available to download or request as a hard copy the new A4 booklet provides a practical and informative overview of all the company's new and existing products. This includes Steadmans' thermally efficient composite roof and wall panel system, its traditional single and twin skin cladding systems and Meta-Slate, a new BBA-approved s late-effect metal roofing system. The literature also includes other new and innovative products such as Drip Stop Drain, a condensation control fleece for high humidity single skin applications.
LOOKING FOR LARGER LIFTS? LOOK TO NEW STANNAH XTRALIFTS

Yes, Stannah Passenger Lifts are getting bigger. Our new Xtralift range provides MRL gearless traction passenger lifts for up to 33 Persons, with a multitude of configurations. Stannah Xtralifts can go a little higher and faster than our 6-16 person Maxilift range, so giving our customers more choice than ever before. Of course our larger lifts come with the same Stannah assurances: quality manufacture, comprehensive choice of finishes, excellent customer service and local service, nationwide. So for all your lift requirements, from 6 – 33 person, simply call Stannah. We know we can help.

ZINC – CHANGING THE FACE OF INTERIORS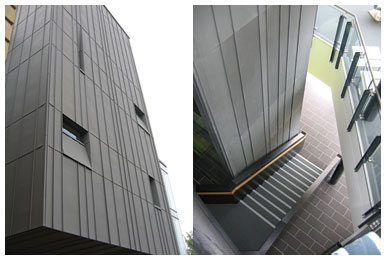 Zinc is undoubtedly achieving increasing prominence as a façade and roofing material through projects of increasingly high profile. Its sustainability is reflected by an already thriving recycling market which, in Western Europe, is already seeing around 90% of old rolled zinc being reused.
Coventry University's new Health Design and Technology Institute has incorporated the latest innovations in building access and inclusive design to allow effective perception of depth and texture for the partially sighted. The range of finishes VM Zinc now offers enormous design scope.
The experience of bringing the outdoors indoors has now been extended to incorporate the garden. Gone are the days of hexagonal glass houses, with architects instead opting to open their doors, and walls and to the outside world. The popularity of bi-fold doors has enabled designers and architects to think of a room and the garden as one, eliminating barriers such as end windows and door frames. With the right construction, entire corner sections of a room can be replaced allowing maximum access and light. TimberTech decking is the perfect choice to create that unspoil ed progression from interior to exterior flooring. Fast becoming the most popular alternative decking material in the UK, call TimberTech to receive your sample today.
EMPLOYEE EMPOWERMENT BUILDING GEZE SUCCESS
It's official! Geze UK is one the industry's best places to work, according to Building magazine's Good Employer Guide, which featured the industry's 50 best employers. Judged confidentially by its own professional staff, Geze UK scored highly for its good working environment, empowerment of team members and commitment to work-life balance. Smarter working practices, good CSR and a feel good factor within the company were complemented by high scores for the company's leadership, the ability of staff to contribute to success and an inspired workforce, with all staff receiving additional benefits. Geze UK's staff was invited at random to complete an anonymous online opinion survey.

GEZE UK'S NEW CHARTER CHAMPIONS CUSTOMER SERVICE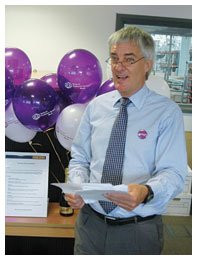 A brand new Customer Service Charter has been launched by Geze UK, one of the UK's leading manufacturer of door and window control systems, during this year's National Customer Service Week. Announced by managing director Andrew Hall to all staff, the Customer Service Charter highlights Geze UK's commitment to customers and outlines the standards of service it aims to provide by setting out eight key values including respect, honesty, quality, teamwork and effective communication. Endorsed by all employees, the Customer Service Charter will help everyone exceed the expectations of customers in all aspects of their roles.
BIOCLAD® KITCHEN WALLS KILL MICROBES ON CONTACT