New building materials and solutions news 3 10/12/2009.

---
TILED FLOORS ARE BETTER IN HOUSES AT RISK OF FLOOD
"In homes at risk of flood damage, tiling floors will enable homeowners to get back to normal much more quickly" say The Tile Association.
In their publication "Prepare your property for flooding" The Environment Agency advise, "Flooring: lay tiles with rugs rather than fitted carpets, which often need to be replaced after a flood". The charity, National Flood Forum, advise "modifying the inside of your home to reduce the impact of any future flood".
To read all of this report go to www.tiles.org.uk/tips/0912.shtml then browse the rest of the website to find out more about The Tile Association.

SPC COMPLEMENT THEIR PRODUCT RANGE WITH HEAT PUMPS & RADIANT SYSTEMS
S & P Coil Products Limited (SPC) have introduced the DeLonghi-Climaveneta Commercial range of Heat Pumps into their already impressive product portfolio. SPC have set up a partnership with ICS Heat Pump Technology to supply DeLonghi-Climaveneta Heat Pumps and Radiant Panel Packages to the commercial marketplace. ICS Heat Pump Technology, who already have a very impressive domestic heat pump design and install service, have chosen SPC because of their existing relationships and stability within the commercial heating and ventilati on market. When the opportunity came along for SPC to work alongside ICS Heat Pump technology, SPC jumped at the chance.
COLLINGWOOD COLLEGE REFURBISHMENT, SURREY
Comar Architectural Aluminium Systems and their approved fabricator Alimatic Ltd., have recently completed a full refurbishment project to provide a whole new building envelope to Collingwood College, Camberley, Surrey. The design brief was for the façade to be modern, clean and contemporary whilst complementing the school colour. The College and the Local Authority are extremely happy with the end result and are now planning the refurbishment of an adjacent school. Intensive consultations took place as the brief for this project required Alimatic to specia lly design many elements, including the corner panels to ensure the smooth installation.
ABET LAMINATES ON ANOTHER PLANET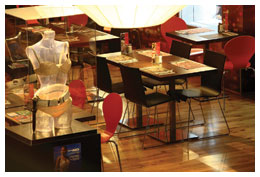 High pressure laminates from Abet Laminati are being used throughout the eye-catching new Planet Hollywood restaurant in the Haymarket, London. This stunning venue which opened in June 2009 was designed by The Manser Practice and furnished from wall to wall by RHA furniture who specified Abet Laminati's Legni woodgrains on many interior finishes. Legni 312 Wenge in a SEI finish has been used extensively horizontally on table tops and vertically on Bulkhead Seating Areas, the Meet & Greet podium as well as individual waiter s tations throughout this famous themed restaurant brand. The woodgrain effect provides a hard wearing, elegant finish which complements the backdrop of exposed brickwork and natural timber floors.
READ ALL ABOUT IT! COMMUNITY LIBRARY CELEBRATES REFURBISHMENT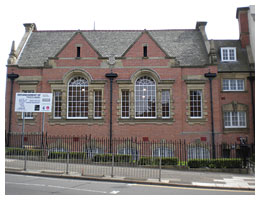 More than a million pounds of Lottery funding has helped refurbish an historic Liverpool library. Toxteth Community Library closed in November 2008 to make way for the project, which has transformed the Grade II listed building and vastly improved its facilities. To help renovate the library's 40 original sash and casement windows contractor B&D Croft of Leigh, Lancashire, turned to the experts from Ventrolla. Richard Ellis, managing director of Ventrolla Lancashire, said: "Toxteth Library is an important facility for the local community and we are pleased to have played a part in its rejuvenation."
BISON PRODUCTS CHOSEN FOR SPECIALIST BUILT ENVIRONMENT ACADEMY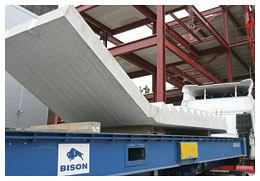 Hollowcore floors and stairs from Bison Manufacturing Ltd were selected for use on the latest phase of the Wren Academy school in Finchley, London. The contract saw over £160,000 worth of Bison Manufacturing precast concrete products used on the new North Block being built at the shool. Bison Manufacturing's input began with advice at the design stage of the North Block building. This resulted in the cores of the Bison Manufacturing floor and stair units being linked and reinforced so that the resulting design enabled the North Block to meed the disporportionate collapse requirements of the Building Regulations Part A.

DORGARD GETS TOP MARKS AT SCHOOL
Hamilton Primary School in High Wycombe has just bought a second batch of Dorgard wireless fire door retainers, from Fireco, for its Priory and Hampden Road Sites, to legally hold open fire doors, and help the flow of pupils and staff throughout the school without compromising fire safety. Hamilton Primary's Nick Stewart-Long comments, "After evaluating our original purchase of Dorgards we found them to be such an excellent solution that we extended their use to other parts of the school. As they are easy to install, we avoided any disruption to the premises. In our view, Dorgards are a neat and effective answer to legally holding open fire doors."
EXCITING PARTNERSHIP FOR THE CONSTRUCTION INDUSTRY
BuilderScrap, the website designed by builders for builders, is pleased to announce an exciting new collaboration with Construction Centre for Innovation North West (CCINW) and Salford University. The partnership has been created in order to develop a technology to accurately measure the amount of carbon saved by members of the BuilderScrap website. The BuilderScrap website launched a year ago and, has 900 members using the site, a figure which is growing continually. The website is free to use. Members can register and up load any leftover, surplus construction materials to the website. Other members can then search for these materials, and contact the seller to make an exchange.
STEADMANS PROVIDES COMPLETE BUILDING ENVELOPE FOR NEW INVERALMOND BREWERY, PERTH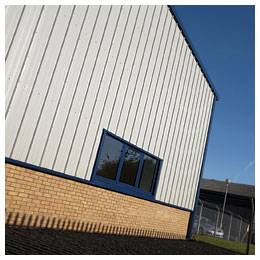 Roofing and cladding manufacturer Steadmans has provided a complete building envelope for the new office, warehouse and brewing facility of the Inveralmond Brewery in Perth, Scotland. Located on a brownfield site near the existing brewery, the building will eventually accommodate the entire operation when it relocates to the new purpose built premises. Steadmans supplied 1,460 lin metres of AS35/80 insulated panel for the roof and walls of the building and 320 lin metres of AS35/100 Firefighter composite boundary wall panels which are fire rated to LPCB grade EXT- AI5. The company also provided contrasting scintilla-finished flashings in Sargasso blue to reflect the corporate colour of the brewery's logo.