Previous schemes 11 - photo gallery.


Photo title:- Front extension, rear extension, loft conversion, roof extension and total refurbishment of existing property - 2010.
Description:- To extend the existing single storey bungalow dwelling to create a large family home within the strictly controlled rural Green Belt.
Existing property:- Single storey large footprint area bungalow. Very rural location and in poor state or repair.
Previous Planning History:- Very relevant to this proposal as its previous bad planning history set the tactics for our development scheme utilising a combination of new Planning Consents & Permitted Development Rights implementation to extend the property way beyond what would normally be allowed under Current Green Belt Planning Policy.
18 months prior to this the applicants had been battling with the Planners to build a new replacement dwelling on the site which was continually being turned down on Green Belt area limits and more intrusive into the open Green Belt. They had simply had enough of trying to appease the Planners and being given inconsistent advise and design criteria that was all way too subjective to spend another 18 months with.
Clients requirements:- To extend the existing property by as much as possible to form a two storey large family dwelling, maximising views across the open countryside, to improve its external appearance and character and to provide a totally refurbished modern home appropriate for the generous plot size and wonderful location all within the constraints of the Green Belt.
CHP comments - I was given a free hand to propose a set of works and extensions that was very much reliant upon exploiting the recent changes to the Permitted Development rules if we were to achieve the final size of the completed dwelling.
A tactical approach was adopted to first split the scheme into a modest front extension with loft conversion to allow the Planners to approve the 'gateway' extension that entirely fitted within the planning policy for green belt development.
Once Planning Permission was secured for that part of the development we submitted a Certificate of Lawfulness for a two storey rear extension under Permitted Development which was accepted. Had formal Planning permission been required it would have been refused on Green Belt policy.
Both schemes were then implemented on site.
The irony of this scheme is that the property could have been made much larger by having gable ends rather than hip end roof slopes and adding further side extensions - again all under Permitted Development but the site owners felt this made the property look too large and out of scale.
'BEFORE' IMAGE IS SHOWN FIRST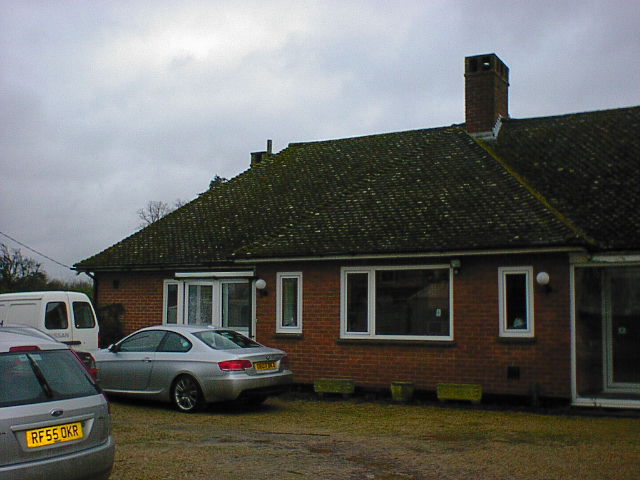 Choose an image to begin